What I Wore, Two Friends + One H&M Scarf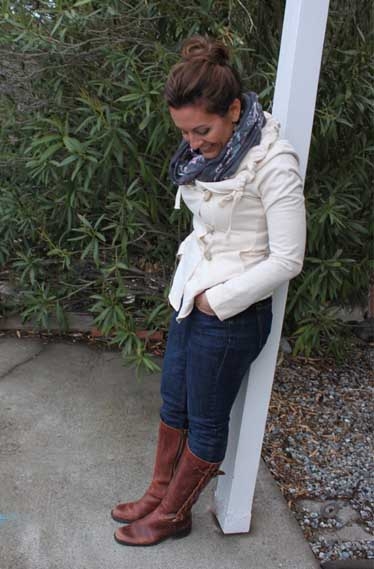 Two weeks ago, this H&M scarf was added to my collection. I definitely didn't need another scarf, but as I mentioned in my last "What I Wore" post, they find their way home with me much too often. I didn't plan to use it as a neck scarf when I bought it. I loved the subtle Asian-themed print but didn't love the infinity style (they make me feel claustrophobic) so I thought I would re-purpose into a head scarf a la Nicole Ritchie when the summer months arrived.
I was at my friend Cami's house showing her my finds from the shopping trip and she gasped in horror at the thought of me taking scissors to the beautiful infinity scarf. About a minute later, she came up with the fun idea to each style one piece of clothing or accessory and blog about it. We decided the scarf should be first up.
I am pretty lucky to have a friend like her *and* she lives in my neighborhood, has a daughter my daughter's age and also makes jewelry/owns a business. She is incredibly kind and supportive. We walked the hills around our homes this morning. If you want to see the breathtaking view we captured half-way through, take a peek at our Instagrams: mine and Cami's and feel free to follow us if you Instagram too!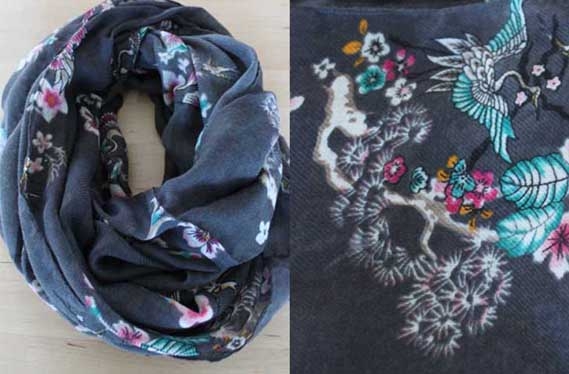 While we both ohhh and ahhhh over many of the same things, Cami has more of a vintage vibe to her style and I guess I have more of a rustic/boho vibe (at least we do on most days).
Cami nailed it with her rolled-up jeans, grey pullover and claret and camel maryjanes … so adorable. Her outfit would be perfect for anything from running errands to a casual party. I want her shoes. Hopefully she will tell us where she got them on her WIW post.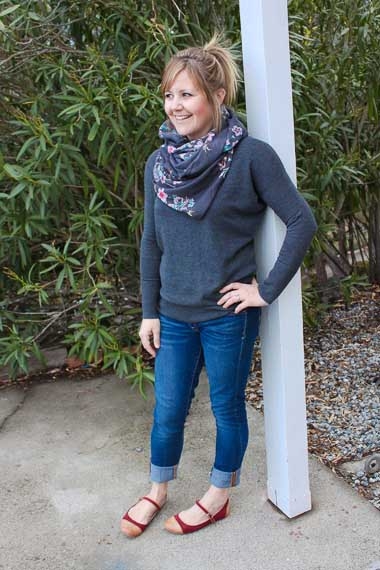 Since there was a tiny bit of a blue in the scarf's print, I grabbed my aqua suede flats. I have these ballet flats in two colors; they are like wearing slippers. The other color is a deep forest green and I wear those all the time. I thought I would equally love the aqua color but don't wear them as much as I thought I would …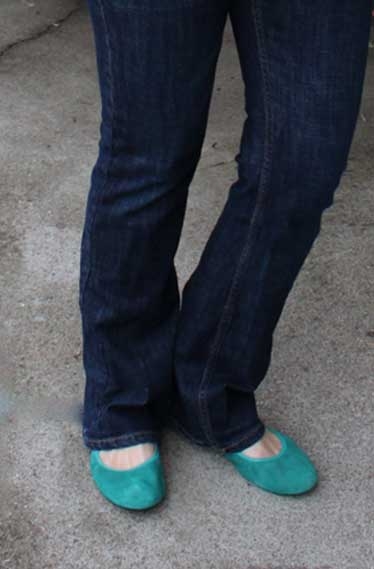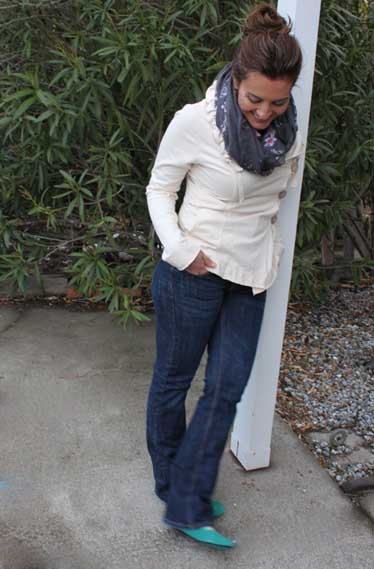 After wearing the flats for a few minutes, I had second thoughts and switched them out for my very favorite brown boots. Ahhh, much better …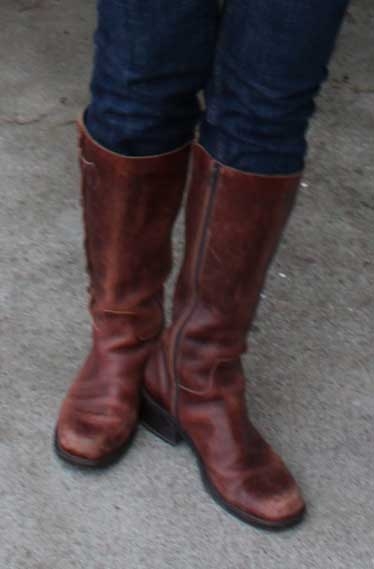 If footwear could be a security blanket, these boots are it for me. I bought them about four years ago at DSW and the brand, Nicole, comes out with a similar style every fall. I am 5'4″ and these boots hit my calf at the right point and are so comfortable, I've walked the across the Brooklyn Bridge and back in them (seriously). Mine are at the point of needing a trip to the cobbler's but I still love them so …
You can't see it with the scarf on, but I was wearing one of my favorite new Remy and Me. necklaces, a 16k gold-dipped heart strung on silk cord.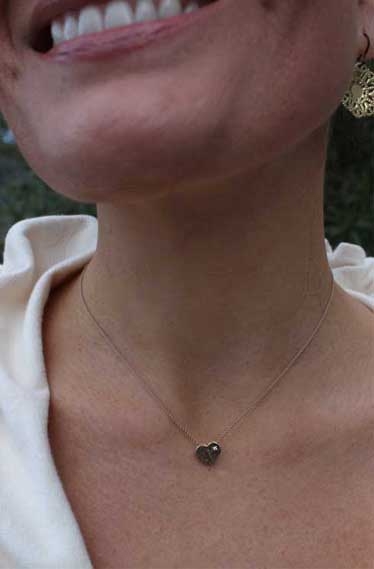 { d e t a i l s }
Jacket, Lucky Brand via T.J. Maxx (I am a sucker for anything that is asymmetrical or buttons/zips to one side)
Jeans, Banana Republic Outlet
Scarf, H&M, similar here
Earrings, Three Heart Studio
Aqua Suede Flats, Hush Puppies "Chaste" via Amazon
Boots, Nicole via DSW, similar
Much to Cami's dismay, you just might see the scarf worn on my head this summer. Stay tuned (insert wicked laugh) …
{linking up with the pleated poppy}